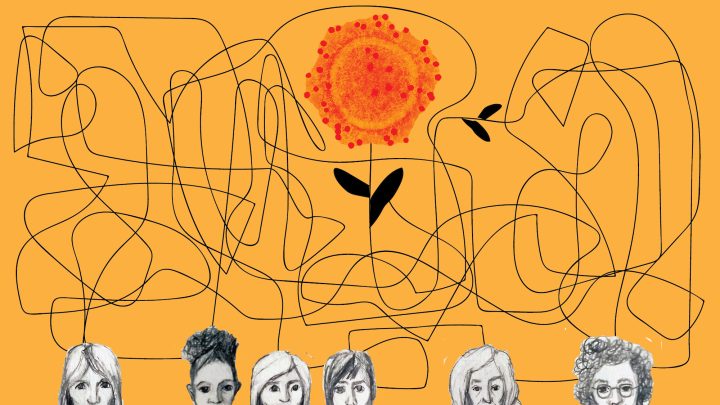 Labor rights are considered the most unprotected area of human rights, and due to the difficult social situation, people have tolerated violations of labor rights, and harsh and unfair working conditions. Moreover, violations of labor rights have a relatively high share in the violations of natural human rights in Armenia. As is the case with other rights, the level of awareness about labor rights remains low and disturbing. The Coronavirus pandemic exacerbated the issues of labor rights, the recognition of the importance of labor rights, cultural pecularities, etc.
The recognition of the importance of labor law, cultural peculiarities, the work on all this, and all these issues have been aggravated by the Coronavirus pandemic.
In May 2020, the Office of the United Nations High Commissioner for Human Rights published a report on the impact of the Coronavirus pandemic on women's rights according to which women are particularly vulnerable in a state of instability, and these vulnerabilities emerged and were exacerbated specifically within the context of the pandemic. In many countries, women are more engaged in low-wage and informal labor sectors which means unregistered employment, no access to vacation, paid sick leave, and health insurance, and in general, lack of social security is more likely for women. Therefore, having sufficient means of livelihood is at risk for women, and the loss of income affects the welfare of their families especially when they are the sole income earners in the family (HCAV, 2020).
According to RA Statistical Committee data of 2020, 41% of women and 56% of men were employed in the labor market, 4 out of 10 women, and 6 out of 10 men of working age had a job.
In 2020, 51% of women aged 15-74 did not have a job and did not seek one, being mainly engaged in household affairs (RA Statistical Committee, 2021). Both women and men are mostly wage workers. Among employers and self-employed, the share of men prevails, while among unpaid workers, women outnumber men twice (RA Statistical Committee, 2021).
According to the "Monitoring Impacts of Covid-19 in Armenia" report (World Bank, 2021), unregistered workers lost their jobs the most, and the share of women among them was statistically higher. According to the data of this study, before the outbreak of the pandemic, 13.3% of respondents had registered employment, but 25.6% were employed without formal registration, without a labor contract. Moreover, the share of unregistered workers among employed men was 56.3%, and 69.06% among women. Due to the pandemic, 17.3% of men and 19.1% of women lost their jobs (World Bank, 2021). In other words, while the engagement of women in the labor sector was already low, women's loss of jobs due to the pandemic significantly affected women's employment and labor rights.
The International Labor Organization, analyzing the available statistical data and documents in Armenia, estimated how the pandemic would affect both the economy and health in its "Armenia COVID-19 – Labor Market Rapid Assessment" (ILO, 2020) study. By combining these data with the information collected in the framework of the research on the "Impact of the Coronavirus Pandemic on Women's Labor Rights" carried out by the Socioscope NGO (Khalatyan M., Margaryan N., 2022)[1], we have come to the conclusion that these sectors mostly affected by the Coronavirus pandemic are the: manufacturing industry, construction, trade, hotel industry, public catering and procurement, culture, entertainment, tourism, and other services. Furthermore, the significantly affected sectors of construction, manufacturing industry, and trade have a significant share in the economy in terms of GDP. It is noteworthy that the engagement of women in the affected trade, hotel industry, public catering and procurement, culture and entertainment industries, and other services is quite high. While the total employment of women in the labor market is 45.5%, their engagement in these affected sectors (for example, hotel and public catering, culture and entertainment, other services, etc.) reaches up to 50%.
According to recent publications by the International Labor Organization, women have experienced a disproportionate loss of jobs and income as a result of the pandemic due to their high representation in the most affected sectors, and in some affected sectors, they continue to work as a primary link, maintaining care systems, and often doing unpaid domestic work. At the global level, 4.2% of women's jobs were closed during the pandemic, compared to a 3% loss for men, amounting to 54 million jobs for women and 60 million jobs for men (ILO, 2021). However, while in 2021 as compared to 2019, men's jobs were almost completely restored (59 million), 41 million jobs were restored for women. In other words, according to 2021 data, there are 13 million fewer employed women in the labor market than in 2019 (ILO, 2021).
In view of this, the article addresses the questions as to what labor rights-related issues women faced in their workplace, especially in the sectors of the economy considered affected, how they resolved them, how their rights and safety were protected since the outbreak of the Coronavirus pandemic in Armenia and in the conditions of the declared state of emergency.
Women's Experience
Our interviews and discussions with women allow us to conclude that they often find it difficult to define and interpret labor rights based on their own example, and even more so, they do not speak up about violations of labor rights or interpret what happened to them as a violation of rights. Women mainly single out the following issues related to labor rights caused by the Coronavirus pandemic:
significant changes in working conditions,
non-payment or partial payment of salaries wages by the employer,
non-provision or incomplete provision of occupational health and safety for the employees,
change of job, change of field of occupation, incompletely paid vacations.
Given the Coronavirus pandemic, the method of remote work was introduced in the initial stage of severe restrictions in various sectors of the economy which had issues of their own. Among these, women single out the additional workload, and changes in work schedule. Due to the pandemic, women's work in various fields increased without additional pay, and in some cases, the pay was reduced altogether.
The first 3-4 months were no different in terms of the usual workload and complexity, but after the first month, our salaries were reduced by 50%. From April to mid-June, the 10:00-18:00 schedule was maintained. Some works, e.g. e-marketing, SMM, the workload of which was even doubled here… It was not acknowledged that you do your work in the same way. That halved salary was maintained until September 2021.

A woman working in the field of culture
The workload in the service sector during the Coronavirus pandemic was due to colleagues getting sick and replacing each other, in general, due to the shortage of human resources. As a result, the workers in the service sector were deprived of the previously established free non-working days and vacations during the Coronavirus pandemic.
We neither had any day off nor a chance to go on vacation those days- from the end of February to the beginning of September. We didn't even stay at home. And under normal conditions, we stayed at home one day a week and we went on vacation whenever we wanted. The employer said that they had no right to hire a new employee and that they needed us a lot, so they couldn't give us even one day off.

A woman working in the catering industry
We worked during the Covid period as well, but not with the same personnel. Those who got sick did not come to work, and we took over their work. We mainly worked in the online section, no one came to the store. It was busier than if people attended and I worked as a cashier. People ordered products, you selected and didn't know if they would like it or not which caused additional issues.

A woman working in the catering industry
Service sector employees who were deprived of days off and vacations due to additional workload often did not even have the opportunity to use their due break hours during the day. Although these issues disturbed women, they did not become a basis for taking steps to protect their own rights as for the most part, women did not know their labor rights, and they often justified being exposed to such abuses by employers by loving their job. In the interviews with women, we notice that sometimes they became aware of the violations of their labor rights, formulating them as a violation of labor rights, but this awareness did not evolve into the act of speaking up about them or seeking protection in other instances. In addition to remote work, the remote organization of public education created additional obstacles for women, mothers, and especially single mothers, some of which were related to financial issues. The need for uninterrupted access to the Internet for organizing work and children's schooling and paying for it put women living in poor social conditions in an even worse situation.
The payment for the Internet alone when, to put it bluntly, you deny yourself some things, you don't buy or give something to the child, to arrange it, to pay for it on time so that the child does not fall behind in the lessons. It is already difficult, they conduct the lessons on Zoom, one can be heard, while another can't, one has the Internet, while another doesn't, I don't know, we are a little weak in this aspect.

A woman working in the catering industry
Under the conditions of the Coronavirus pandemic and especially during the declared state of emergency, working conditions underwent significant changes. Under these changed conditions, women are speaking out about the issue of getting to the workplace because, at the initial stage of the restrictions, the operation of public transport was also suspended which caused women significant inconveniences and financial issues.
We worked during Covid, but there was no transport, so we walked home or took taxis. Although the employers should pay for the taxi, they paid once in a while. In any case, you can't afford not working: you support a family, you support a child… You spent half of your earnings on the commute, but somehow you went to work.

A woman working in the catering industry
The women who participated in the research study also have work experience in the sectors the activities of which were suspended at the initial stage of the pandemic. The pandemic changed the sales process in the trade sector, and some employers delayed salaries or created problems in paying them leading women to leave their jobs. Even registered and contracted women faced such challenges without receiving a salary or any compensation from the employer.
We did not work from March to May, and I worked until the beginning of July. We still received the same salary, but they paid with difficulty as the sales had dropped, the turnover was not the same as before, and that's why I left.

A woman working in a clothing store
I changed my job anyways, but they kept me employed for part-time. They transferred 9000 AMD to me every month: I don't know why my part-time salary was that much.

A woman working in the tourism sector
In these cases, the lump sum support programs provided by the state were a temporary solution for women. Women's experiences and living conditions varied, and even in the face of restrictions, the financial issues of temporarily not working were not extreme if there were other workers in the families. However, in some cases, women were single mothers or sole workers in the family.
…We adapted, my children worked, my husband worked… There was probably one worker in each of our houses, and we managed with that work, because there were such organizations that did not call their employees to work, but they said: stay at home, we will call you when necessary, but those people received a salary.

A woman working in a textile factory
In view of the Coronavirus pandemic, employers were obliged to ensure occupational health and safety for employees. In the setting of general anxiety and uncertainty, as well as the state of emergency declared on March 16 which limited the activity of various sectors of the economy (ARLIS, 2020), women working in textile factories continued to work and finish the work at the instigation of the employer.
For the sake of our safety, the employer could have introduced those restrictions in time, but since we had an order, that order had to be delivered, they couldn't send us home in time, so we worked for a few days to be able to deliver our order, and then we went home.

A woman working in a textile factory
Women working in the service sector interpret the willingness to ensure the safety of employees as something arising from the interests of the employer, not a matter of caring for employees and protecting their rights and safety.
Special barriers were put up for safety so that there was little contact with people, gloves, masks, and alcogel were provided to protect the employees as much as possible, since the profit came from them.

A woman working in the catering industry
In general terms, women qualified the safety measures taken by their employers during the pandemic mainly positively and stated that everything was done in accordance with the law and the commandant's office.
When Covid started, alcogels were provided for us, but after a couple of weeks, we closed altogether. Then, when we reopened, there were gloves, alcogel, disinfection every 5 minutes, mask change every 2 hours, and at the end of the day, more thorough disinfection than before. When the number of infected people decreased, we did not wear gloves. Then, during the war, people became indifferent. We wore masks, but the customers did not. We comply with their laws. Whatever they tell the employer, the employer tells us and demands from us.

A woman working in a cafe
Our director pays close attention to us. Neither the employee nor the customer is allowed without a mask. The director mainly focuses on cleanliness and requires disinfection of handles, etc. There has never been such a case of someone saying that they got infected by us.

A woman working in a beauty salon
However, there is no lack of cases when women had to provide preventive measures for their own safety.
Generally, we provided ourselves with personal protective equipment at our own expense. The employer provided two disposable masks every few days. So we had to wear reusable masks. We also provided ourselves with other accessories because the ones they provided were of very poor quality, and we did not use them.

A woman working in the clothing store
As told by women, safety measures were more strictly observed in the initial stage of the pandemic. Some of the women participating in the research study had already changed their jobs at the time of the study and were making retrospective qualifications, and the adherence to measures against the pandemic in the current workplace and at the given stage of the pandemic was already inconsistent and not strict.
In the beginning, we were all compulsorily given gloves and masks every day, now people are a little more free as if after this war the fear of Covid has passed, and we don't wear such things anymore.

A woman working in an agency under the municipality
Among the sectors that overall stopped operating, women working in the service sector, especially in beauty salons, tourism, and other affected sectors, lost their jobs or had to change their sector of activity due to the pandemic in order to achieve socioeconomic stability. This was a difficult change and decision for women, especially given that women had made great mental, financial, and time investments and efforts at different stages of their lives in order to get the already lost job.
I'm not very happy [with the new job]. I would like to do my work in the salon but now some people are afraid to leave the house because the cases have increased. Now it is still difficult to obtain many [customers]. You see, the roads are closed, tourists don't come, all these things are interlinked …When I lost my customers, I didn't make money anymore, and it became more difficult. I stayed at home for two months, then I went to work. During that period I had one or two customers, then they also disappeared: one got sick, and the other didn't come for another reason. In any case, the pandemic affected me badly.

A woman working in a beauty salon
[Tourism] itself is very, very good, it's very fun, it's a great sector, you see everything… It's very good to work, I love it, but now I wouldn't dare go back, because, besides the fact that it's 24/7 and you don't get paid for it, you have to love the job, that's it. Now I don't dare…

A woman working in the tourism sector
In the case of changing jobs, women did not receive vacation payments commensurate with their experience and working conditions from their employers, which they voiced in some cases, but did not receive a satisfactory answer, and in some cases, they found their own assumption and explanation.
If you don't use the vacation allotted to you, 20 days in a year, you get it in the form of a final settlement at the end because you don't go or you have some work, you can't go. In the case of our organization, they forced you to use your vacation until the end of the year. If you didn't use your vacation, you didn't go, which was your business (you may go or not go on vacation), you received your vacation payment at the end of the year, which I don't know how it was calculated, I really don't understand that vacation payment should be about 80 percent of your salary, right? Corresponding to 80-90 percent of your salary. We used to get 40-50 percent vacation payment. When asked why, he said: "Well, in the year of Covid, you didn't work full-time, you were registered half-time, so the first 6 months are not counted…" He used to tell such tales.

A woman working in the tourism sector
I was paid for my half-time during the time I was infected with the Coronavirus, I was not notified that a vacation was formulated, but my final settlement was a very small amount, despite the fact that I had one week of unused vacation every year. That's why I assume that a vacation was formulated in that period. I was sick of all that and I didn't demand any papers to know what happened.

A woman working in the field of culture
Women rarely spoke up about employers' violations and abuses, trying to "get into their shoes," find excuses for their actions, and sometimes their inaction. And in those cases when women clearly realized that their labor rights were violated, they, first of all, tried to negotiate with the employer with the prospect of resolving the problem which was not always effective. The women found the possibility of appealing to other bodies pointless, justifying it with the facts of being familiar with the character of the employer and not wanting to get into additional trouble. As an alternative, women chose to voluntarily quit their jobs or change their work schedules. There were cases when women's job during the pandemic was their first experience, and employers, taking advantage of the opportunity, violated their labor rights. Although women were not familiar with their rights, they realized that the treatment they received at the workplace was unfair.
I went through a trial period in June and started working in July, but the contract was signed in November. It was my first job, I didn't pay that much attention. The accountant asked for some documents, which were in the village, and said: it's okay, bring them later. I did not understand that there was the issue of taxes, tenure, and other such issues. During Covid, they said that the contracts would be revised in connection with part-time work, but they never sent it, and I don't know if a new one was prepared and I didn't sign it, or if it wasn't drafted at all.

A woman working in the field of culture
Thus, due to the Coronavirus pandemic, women faced many issues in their work practice related to the violation of their rights to one degree or another, but they did not always have sufficient capacity, and sometimes the desire and intention to resolve these issues.
It seems that the world has somewhat managed to overcome the Coronavirus pandemic and its consequences. However, highlighting the gaps caused by the pandemic in the field of labor rights, addressing them, and raising the issue of insuring people against such crisis situations and finding solutions remain relevant to this day.
Authors: Mariam Khalatyan
Nvard Margaryan
[1] The research study was conducted in three stages. A qualitative methodology was used for gathering the research information. In the first stage, we mapped the socio-economic support programs provided by the state, international organizations, and local civil society organizations, legislative changes, and bills, research studies, media publications, etc., and conducted secondary analysis. In the second stage, we conducted 10 expert interviews with the representatives of the RA Ministry of Labor and Social Affairs, the National Assembly, the Health and Labor Inspection Body, the Human Rights Defender, the Confederation of Trade Unions, NGOs, and international organizations. We conducted triad group discussions and individual in-depth interviews with 12 women, that have been engaged in the most affected areas of labor market identified by the experts.
Լist of references
Khalatyan M., Margaryan N․ (2022). The Impact of the Coronavirus Pandemic on the Situation of Women's Labor Rights in Armenia (A. Manusyan, Ed.),
HCAV․ (2020). Guideline on Covid 19 and Women's Rights. Retrieved from: https://bit.ly/3FEBvSA
RA Statistical Committee. (2009). Measuring Poverty in Armenia. Methodological Clarifications. Retrieved from: https://armstat.am/file/article/poverty_2009_6.pdf
RA Statistical Committee. (2021). Social Snapshot and Poverty in Armenia. Retrieved from: https://armstat.am/am/?nid=81&id=2438
RA Statistical Committee. (2021)․ Socio-economic Situation in the Republic of Armenia. Retrieved from: https://armstat.am/file/article/sv_12_20a_142.pdf
RA Statistical Committee. (2021)․ Women and Men in Armenia. Retrieved from: https://www.armstat.am/file/article/gender_2021.pdf
(2020)․Decision of the Commandant N 27 on the Restrictions Imposed Throughout the Territory of the Republic of Armenia in Connection to the Legal regime of the State of Emergency. Retrieved from: https://www.arlis.am/DocumentView.aspx?docid=141040
ILO․ (2020)․ Rapid Assessment of the Employment Impact and Policy Responses of the COVID-19 Pandemic on Armenia. Retrieved from https://bit.ly/3vMsqDU
ILO․ (2021)․ Policy Brief. Building Forward Fairer: Women's Rights to Work and at Work at the Core of the COVID-19 Recovery. Retrieved from https://bit.ly/3vZ4ugF
World Bank․ (2021)․ Monitoring Impacts of Covid-19 in Armenia (Armenia High-frequency survey wave -1 (AHFS-1): July-September 2020.
Funded by